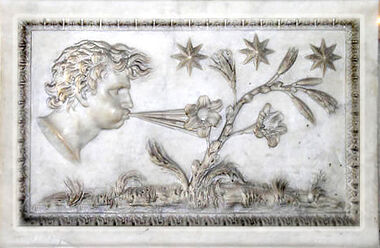 Aelous is the Greek god of the wind.
Overview
Aeolus, a name shared by three mythic characters, was the ruler of the winds in Greek mythology. These three personages are often difficult to tell apart, and even the ancient mythographers appear to have been perplexed about which Aeolus was which. Diodorus Siculus made an attempt to define each of these three (although it is clear he also became muddled), and his opinion is followed here. Briefly, the first Aeolus was a son of Hellen and eponymous founder of the Aeolian race; the second was a son of Poseidon, who led a colony to islands in the Tyrrhenian Sea; and the third Aeolus was a son of Hippotes who is mentioned in Odyssey book 10 as Keeper of the Winds who gives Odysseus a tightly closed bag full of the captured winds so he could sail easily home to Ithaca on the gentle West Wind. But instead his men thought it was filled with riches, so they opened it which is why the journey was extended. All three men named Aeolus appear to be connected genealogically, although the precise relationship, especially regarding the second and third Aeolus, is often ambiguous.
Son of Hippotes
Aeolus, in Greek mythology, according to Homer, was the son of Hippotes, a god and the father of the winds. Aeolus was ruler of the island of Aeolia. In the Odyssey (x. I) he entertains Odysseus, gives him a favourable wind to help him on his journey, and a bag in which the unfavourable winds have been confined. Out of curiosity, or with the idea that it contains valuable treasures, Odysseus' companions open the bag; the winds escape and drive them back to the island, whence Aeolus dismisses them with bitter reproaches. According to Virgil, Aeolus dwells on one of the Aeolian islands to the north of Sicily, Lipara or Strongyle (Stromboll), where he keeps the winds imprisoned in a vast cavern (Virgil, Aen. i. 52). Another genealogy makes him the son of Poseidon and Arne, granddaughter of Hippotes, and a descendant of Aeolus, king of Magnesia in Thessaly, the mythical ancestor of the tribe of the Aeolians (Diodorus iv. 67).
Movie Story
After boarding the ship, they read an article about Aeolus. The ship gets its name from this god. The idea that Jess might be stuck in a sysiphean nightmare as punishment for abusing Tommy is one of the ways the story can be interpreted.
Sources
Ad blocker interference detected!
Wikia is a free-to-use site that makes money from advertising. We have a modified experience for viewers using ad blockers

Wikia is not accessible if you've made further modifications. Remove the custom ad blocker rule(s) and the page will load as expected.