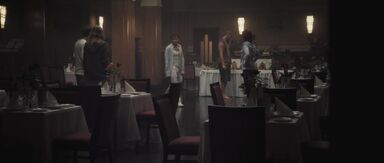 The
Ballroom
is a location of the
film
.
Appearance
The ball room is room seen the Aeolus. It contains many seating areas, it has an area filled with musical instruments.
Movie Story
In the first sequence, Jess and others enter; Victor had asked the time, it was 11:30, Jess's watch had match the time of the clock. Jess saw someone, Victor leaves to see who it was. As a version of Jess leaves with Greg, another enters and tells Sally and Downey that Greg told them to go to the theater. Victor enters the ball room, a version of Jess is attacked by him, she manages to kill him; this body of Victor is taken out of the room. In another loop, Victor had enter along with our Jess and she confronts another Jess. Again, Victor's body is dragged out and thrown overboard.
Trivia
The symbol on the drum matches the symbol found in the real world.
Gallery