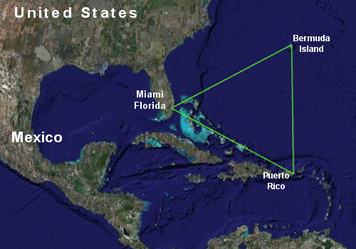 The
Bermuda Triangle
is an area near Bermuda where many ships, planes and people are said to have have mysteriously disappeared, with no trace of them ever being found. Over the years, a mythology has built up around these events, which have been attributed to almost every pseudoscientific phenomena imaginable.
 Explanations
Human Error
Weather Patterns
Magnetic Fields
Methane Hydrates
Influence on culture
The Sea World amusement park on the Gold Coast (Australia) operated a ride called Bermuda Triangle.
Composer Isao Tomita released an album, Bermuda Triangle, inspired by the region.
Fleetwood Mac released the song Bermuda Triangle on their 1974 album Heroes are Hard to Find.
Singer-songwriter Barry Manilow's single, "Bermuda Triangle" (released in 1981), was taken from his album Barry (1980).
The first film based on the Bermuda Triangle was the 1975 TV Movie Satan's Triangle. Later films include The Bermuda Triangle (1978), The Triangle (2001) and the eponymous TV miniseries (2005).
Movie Story
Due to film's name 'Triangle', many people think that the film is set in the Bermuda Triangle. The film gets its name from the sailboat owned by Greg.
Sources
Ad blocker interference detected!
Wikia is a free-to-use site that makes money from advertising. We have a modified experience for viewers using ad blockers

Wikia is not accessible if you've made further modifications. Remove the custom ad blocker rule(s) and the page will load as expected.