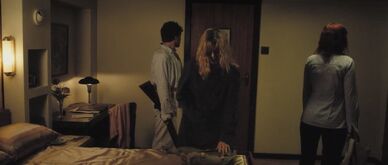 Several scenes occur in
cabin 237
.
Appearance
The cabin looks like all the other cabins. It has a note written in blood found on the mirror.
Movie Story
Greg and Jess had entered the cabin. They saw a note written in blood saying  'Go to theater'.
Later, as another cycle occur, another Jess had lead another Sally and Downey into the cabin, where they are stabbed and killed, respectively.
The Jess that the film had followed then moves Downey's body and writes the note for the other Greg and Jess to see.
Trivia
237 is Jess's address.
Room 237 is the haunted hotel room in Stanley Kubrick's "The Shining."
Gallery