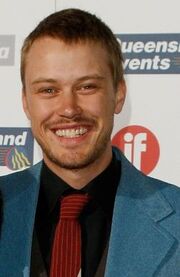 Michael Dorman
is an Australian actor.
Film Portrayal
He portrayed Greg.
Mini Biography
Michael Dorman was born on April 26, 1981 in Auckland, New Zealand. He is an actor, known for Triangle (2009), Killer Elite (2011) and The Secret Life of Us (2001).
Selected Filmography
Triangle (2009)
Daybreakers (2009)
Sleeping Beauty (2011)
Trivia
Born in New Zealand, he lived in Auckland until he was 10 years old, when his family moved to Bundaberg in Queensland. Any trace of a Kiwi accent disappeared almost immediately to avoid teasing at school.
Sources
Gallery
Ad blocker interference detected!
Wikia is a free-to-use site that makes money from advertising. We have a modified experience for viewers using ad blockers

Wikia is not accessible if you've made further modifications. Remove the custom ad blocker rule(s) and the page will load as expected.