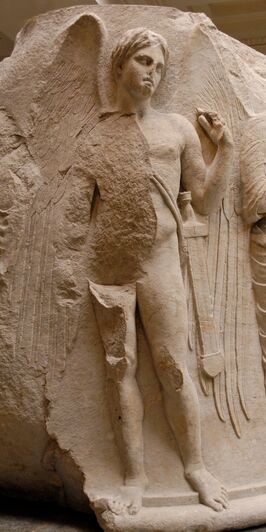 Thanatos is the personification of Death.
Zeus ordered Thanatos (Death personified) to chain Sisyphus in Tartarus. Sisyphus slyly asked Thanatos to demonstrate how the chains worked. When Thanatos did so, Sisyphus secured them and threatened him. This caused an uproar since no human could die with Thanatos out of commission.
Overview
In Greek mythology, Thanatos (Ancient Greek: Θάνατος, Thánatos, "Death," from θνῄσκω - thnēskō, "to die, be dying") was the daemon personification of death. He was a minor figure in Greek mythology, often referred to but rarely appearing in person.
His name is transliterated in Latin as Thanatus, but his equivalent in Roman mythology is Mors or Letus/Letum, and he is sometimes identified erroneously with Orcus (Orcus himself had a Greek equivalent in the form of Horkos, God of the Oath).
Sources
Ad blocker interference detected!
Wikia is a free-to-use site that makes money from advertising. We have a modified experience for viewers using ad blockers

Wikia is not accessible if you've made further modifications. Remove the custom ad blocker rule(s) and the page will load as expected.